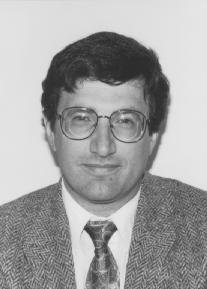 Michael Rayment
Office Information:
Michael Rayment
Department of Computer Science
Office:EN-1060
Phone : (709)-864-8711
Office Hours:
Variable
---
Other Information:
Courses Taught:
CS-1700
CS-3710 (C-language section)

Home page for cs3710 Winter 1999

Some Course Notes for cs1700

Student Course Evaluations CS1700 Winter 1996

Student Course Evaluations CS1700 Lab Winter 1996

Student Course Evaluations CS1700 Winter 1998

Student Course Evaluations CS1700 Lab Winter 1998


Work Related Duties:
My main involvement is with the system administration of the computers in the Department of Computer Science and the Department of Mathematics and Statistics. I manage a team of 6 systems programmers and collectively we maintain the ~15 servers and ~200 PC's that the students and faculty members use. My job entails the planning for and purchasing of new computer equipment, developing and updating software running on our diverse computers, supervising students that do part time work for the department, helping students with their problems and helping other departments with computer related tasks.

The other members of the computer support team for the Department of Computer Science are:

Current Projects:
I am currently involved in a number of projects related to our PC labs:
I am working with members of Computing and Communications PC support team to develop a way to boot a clean copy of Windows 7 or Linux each time a user logs in. This is one of the current projects that compises a suit of system management tools developed in house under the name of Labnet.
I am trying to get our diskless Unix labs to boot disklessly using the Union file system in conjunction to nfs.
I am working with several other lab administrators in order to allow the users of non-CS labs to be able to access their files on our file servers through use of the samba protocol. We currently support ~12000 student accounts.
We will soon be developing a new version of the softaware that currently automates the printer accounting money transactions using the new student ID cards with an RFID chip.
Other Interests:
I have a number of varied interests outside of my computer science interests. These include the following:
The development of higher states of consciousness though the Transcendental Meditation and TM-Sidhis program. These are a few additional sites that you may find interesting.
The study of Jyotish or Indian astrology as recently revived by Maharishi Mahesh Yogi.
The Natural Law Party as a viable alternative to the current way our country's political system is run. I was actively involved in the Natual Law Party in the past three federal elections running as a candidate in riding of St. John's East.
The wholistic approach to health care from Maharishi Ayurveda for prevention oriented medicine.
Campaign to prevent the big bioteck companies from using us as ginea pigs in their genetic engineering experiments.
Orienteering, a sport involving map and compass work to locate flags in the country side.
Wind-surfing on the beautiful lakes and bays of Newfoundland. I am an active meber of Breakers Windsurfing Club.
I enjoy the brisk exhilaration of down hill and cross country skiing.
I love to play badminton and squash just for the fun of it.
Working with the St. John's leadership training team of Scouts Canada especially in the area of outdoor skills training.
Doing work with wood such as remodeling rooms around the house and building furniture.
Kayaking around the beautiful sea coast of Newfoundland
Having lived a pretense most of my life I am thankful to the LBGTMUN Society for giving me a glimpse of what it is like to live myself. In the naked city there are many stories and this is one of them. (From the introduction to the telivision series "The Untouchables"
---
Photo Gallery:
Pictures from some of my vacations
Personal Links:
---
Things to ponder ... (from Chandogya Upanishad)
---
Last updated on April 7, 2004.
Created by Michael Rayment using...

Create-a-Page (Memorial University Edition)
Copyright 1995 - Brendan Brothers. All rights reserved.